Important !!   
TWO Years Warranty. Life-time Free Update. Foxwell Direct Support.
NT680Lite is upgrade version of NT614.
Foxwell NT680Lite is designed for private car owners to check  Four systems: Engine, Gearbox / Transmission, ABS, Airbag SRS.

It supports 2 special functions: Oil light service reset, EPB reset.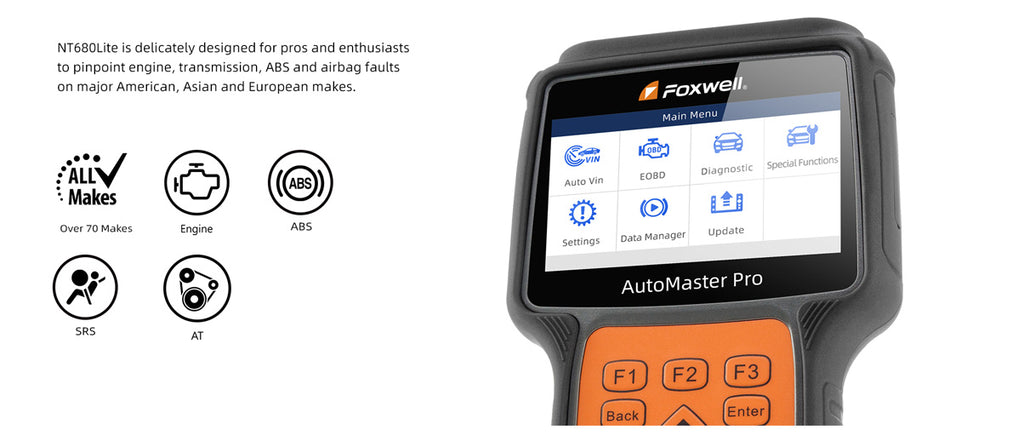 Full OBDII Functions with bi-directional Tests:
Read Codes, Erase Codes, Live Data, Freeze Frame, I/M Readiness, O2 Monitor Test, Component Test, Vehicle Info, DTC Lookup
Four Main Systems Diagnostics:
Foxwell NT680Lite is 
designed for private car owners to check 
Four systems,
it can read and erase fault code of:
Engine
,
ABS
,
Airbag
,
Transmission
Systems.
What is "Full Systems Diagnostic Scanner"?
There are 4 major components of a vehicle: Body, Auxiliary electrical system and electronics, Power-train and chassis and Miscellaneous auto parts
Body main parts: body, doors, windows control module and so on
Electronics includes: audio device, ignition system, lighting, sensors, electrical switches ...
Power-train and chassis contains: braking system, engine, exhaust system, fuel supply system, suspension and steering systems, transmission system, etc.
Miscellaneous auto parts: A/C , bearings, hose and other parts.
It offers technicians accurate, stable and easy diagnosis to help you boost your bottom-line. It also provides easy diagnosis on more than 70 American, Asian and European vehicle makes .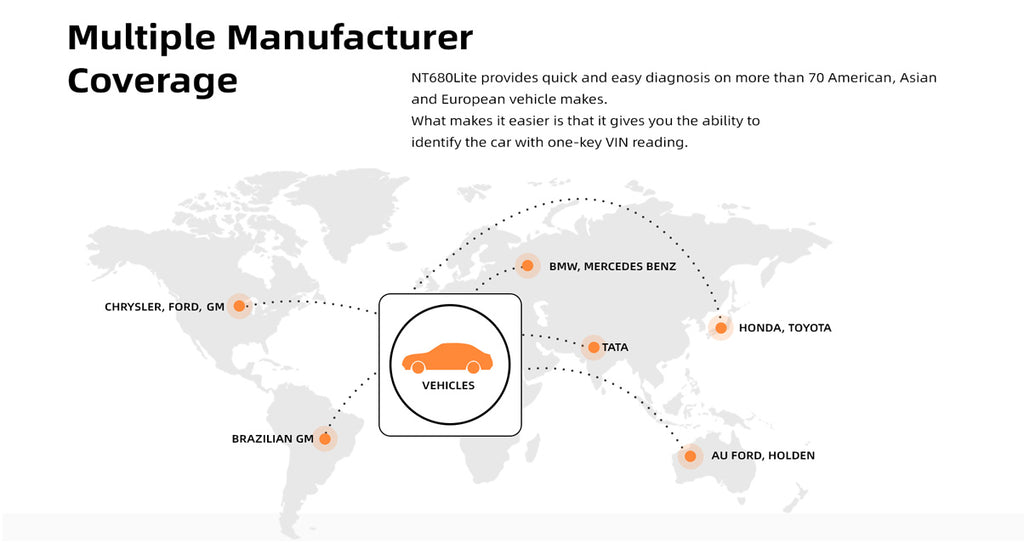 NT680Lite Diagnostic Function Support:
Asian vehicles:

For Acura, Dawoo, Honda, Hyundai, isuzu, Infiniti, KIA, Lexus, Mazda, Mitsubishi, Nissan, Perodua, Proton, SsangYong, Scion, Subaru, Suzuki, Toyota.
European vehicles:

For Audi, Abarth, Alfa-Romeo, Aston Martin, BMW, Bentley, Bugatti, Citroen, Dacia, EU Ford, Ferrari, Fiat, Jaguar, Lamborghini, LANCIA, Land Rover, Mercedes-Benz, MINI, Maserati, Maybach, Opel, Peugeot, Porsche, Renault, SAAB, Smart, Seat, Skoda, Sprinter, VW, VW_cv, Vauxhall, Volvo.
America  vehicles: 

For Chrysler, Jeep, Dodge, Ram, Ford, Lincoln, Mercury, GM ( including brazilian car maker ), Chevrolet, Cadillac, Buick
Chinese vehicles: 

For BYD, Brilliance, Chery, Chery_ne, Geely, Great Wall, Karry, Rely, Riich.
NT680Lite Special Function:
TWO Common Service&Maintenance Functions
NT680 Lite is FOUR system diagnostic scanner, and it can only support TWO common service&maintenance functions: Oil Reset, EPB. 

Special Function Support Car List:
Oil Light Service Reset :
Allows you to reset the service lamps on the instrument cluster. The Service Indicator System is designed to alert the driver when the vehicle is due for a service.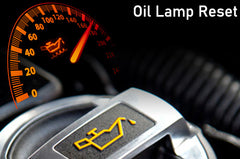 Support List:
For Chrysler, Ford, Fiat, GM, Acura, Honda, Hyundai, Infiniti, Isuzu, KIA, Lexus, Mazda, Mitsubishi, Nissan, Scion, Suzuki, Toyota, Abarth, Alfa Romeo, Audi, Bugatti, BMW, Bentley, Citroen, Fiat, Jaguar, LANCIA, Landrover, Mercedes-Benz, MINI, Opel, Peugeot, Porsche, Renault, Rolls-Royce,for SAAB, Seat, Skoda, Smart, Sprinter, Vauxhall, Volkswagen, Volvo, AstonMartin, Dacia, Ferrari, Maserati, Subaru 
EPB Reset: 
Allows you to perform the service and maintenance of brake systems,including deactivation and activation of the brake control system, bleeding brake fluid, opening and closing brake pads, and setting brakes after disc or pad replacement, on multiple brands of vehicles where electronic brake systems are fitted.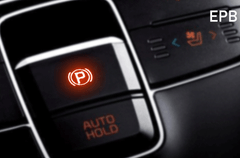 Support List: 
For Acura, Audi, Bentley, Citroen, EU Ford, Ford, GM, Honda, Hyundai, Jaguar, KIA, Landrover, Lexus, Maybach, Mercedes-Benz, MINI, Opel, Peugeot, Porsche, Roewe, Renault, SAAB, Scion, Skoda, Toyota, Vauxhall, Volkswagen, Volvo, Abarth, Alfa Romeo, Chrysler, Daewoo, Fiat, Ferrari, Luxgen, Maserati, Rolls-Roye, Subaru, Seat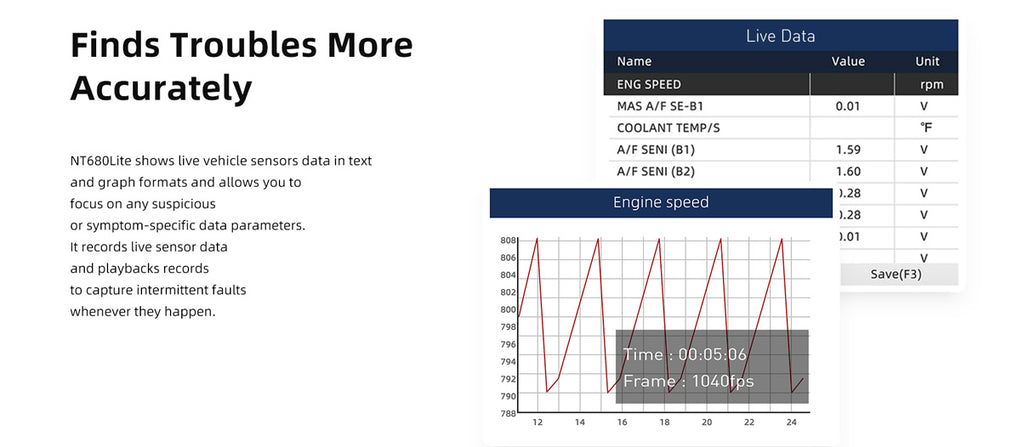 NT680Lite reading codes, freeze frame and real-time live data of all vehicle systems, and it shows vehicle live sensors data in text and graph formats, gives you the "real picture" of what's going on in the vehicle, which allows you focus on any suspicious or symptom-specific data parameters for intuitive diagnosis. You can locate your vehicle problems in a few minutes.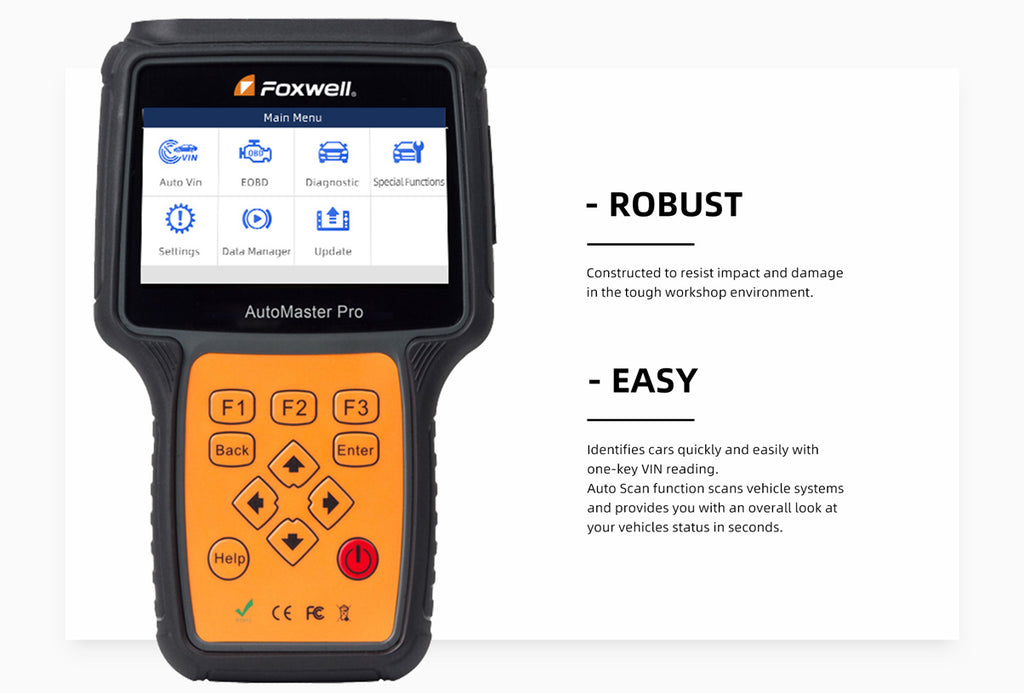 Latest Technology: Run Faster
Upgraded the processor to 9X35 and the running memory to 1GBit which make the diagnostic scanner run faster.

Auto VIN: Quick Identify Vehicle
Auto VIN technology could automatically identify the vehicle's make, model and year information.

Quick Scan: Auto Scan all Control Modules
With this function, NT680Lite can automatically scans all control modules existed, if any problem found it will show fault code to help mechanic analyze the case.

Global OBDII/ EOBD Scan: From 1996-Today
NT680 diagnostics scanner provides comprehensive diagnosis for global OBDII/EOBD vehicles.
It support full OBD functions including reads and clear codes; turns off MILs; requests and records live sensor data; O2 Sensor and EVAP Test (Mode 8); advanced On-board Monitoring (Mode 6), etc.
Simple and Easy to use: For all level users
4. 3'' color display with clearly arranged keypad, menu-driven operation, shortcuts and easy-to-read make the scanner simple and easy to use.
In addition, NT680Lite constructed to resist impact and damage in the tough workshop environment ensure your diagnostic tool will be around for a long time.
Excellent Value for Money: Life-time FREE update 
Life time free update lets you always have the latest bug fixes, new vehicles coverage, newly added parameters and functionalities at your fingertips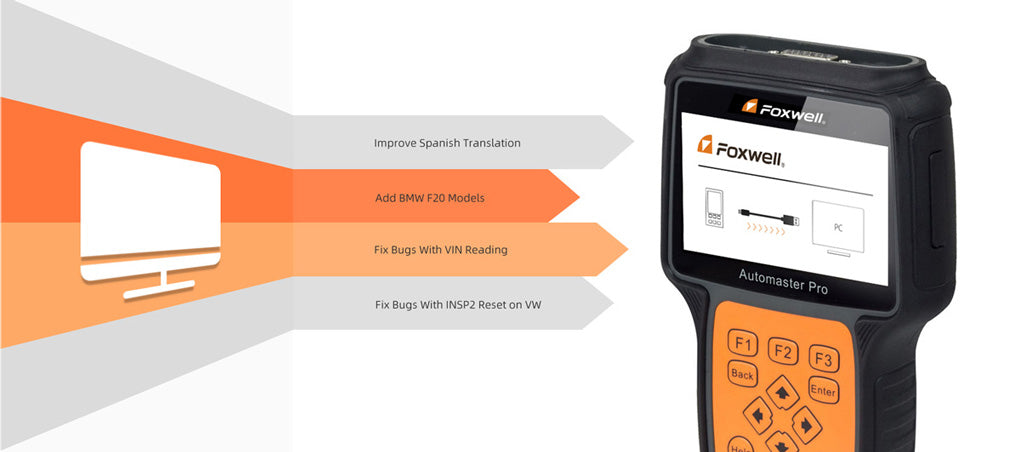 What's in the Box?


What's the difference between NT680Lite, NT680, NT680Pro, NT650Elite?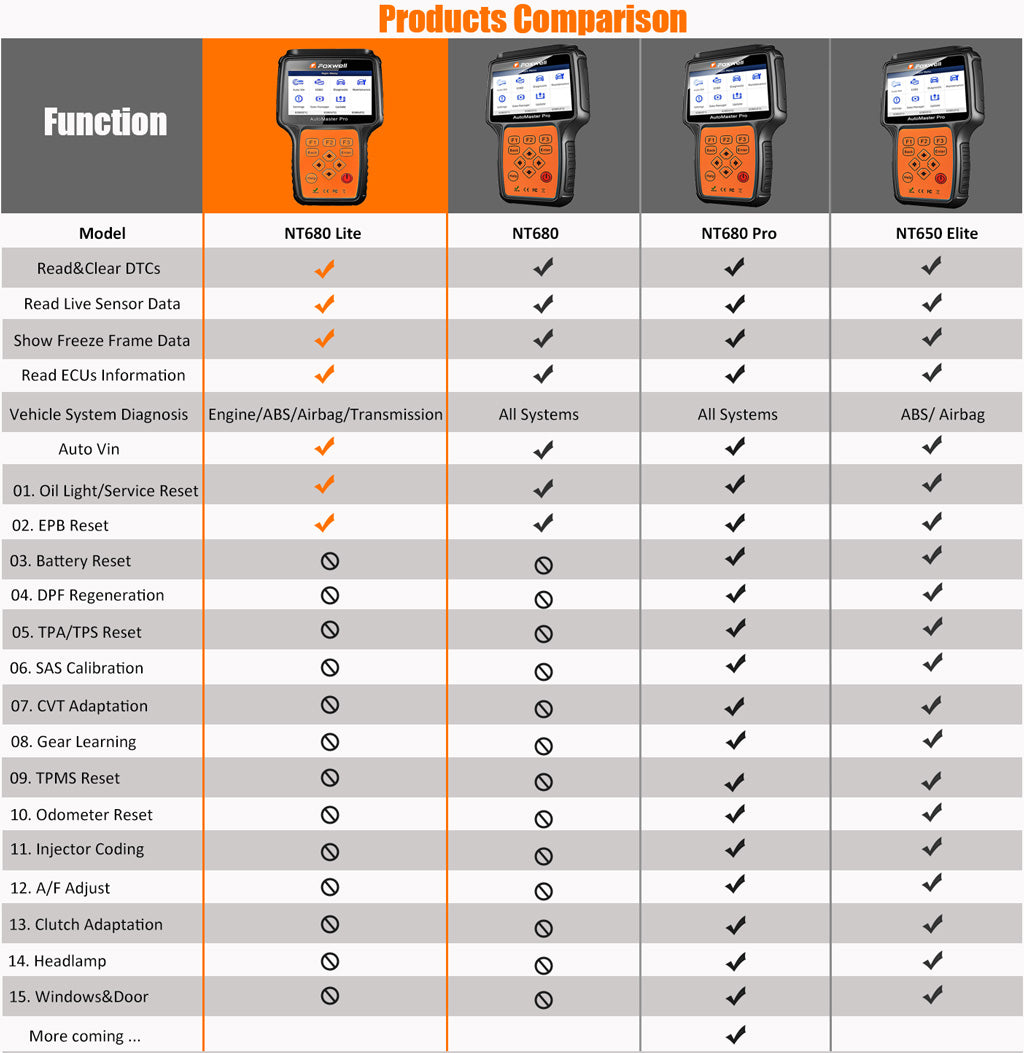 How we ship?
All of the products on FoxwellOnline.com will ship for free.
Orders $0.01 to $99.99: FREE SHIPPING by registered postal service.
Orders $100.00 and up: FREE SHIPPING via DHL/UPS/FEDEX/TNT, etc
Who will be responsible for my import duty?
FoxwellOnline.com DOESN'T add the import duty in our product price or our shipping cost.
Import duty is what your country customs will charge you when your package passes through your country customs. It's always buyer's responsibilities to clear customs and pay the relevant custom duties. Because we have no idea about your importing country's tariff policy and can not confirm the customs cost.
How much I will be charged for import duty?
The amount of customs is different from one country to the other country according to your country tariff policy
What should I notice before shipping?
Please be sure your shipping address is correct. We will only follow your address listed at the payment for the shipment.
Due to the secure reasons, we are not allowed to change shipping address through email.
How long until I receive my items?
We will provide tracking number after shipping, all parcel is trackable.
Express shipping via DHL/UPS/FEDEX/TNT, it normally takes 5-7 working days to reach your place.
Ship via registered postal service, it normally takes about 1 -2 weeks to get it to you.
Further Questions
If you have any further questions regarding shipping or any other subject, please feel free to contact us at support@foxwellonline.com and we will be happy to assist you.