The NT301 CAN OBDII/EOBD Code Reader is the easiest solution for OBD faults. In addition, its 2.8''TFT color screen and hot keys for I/M readiness test, and reading/clearing DTCs make it excellent value for money.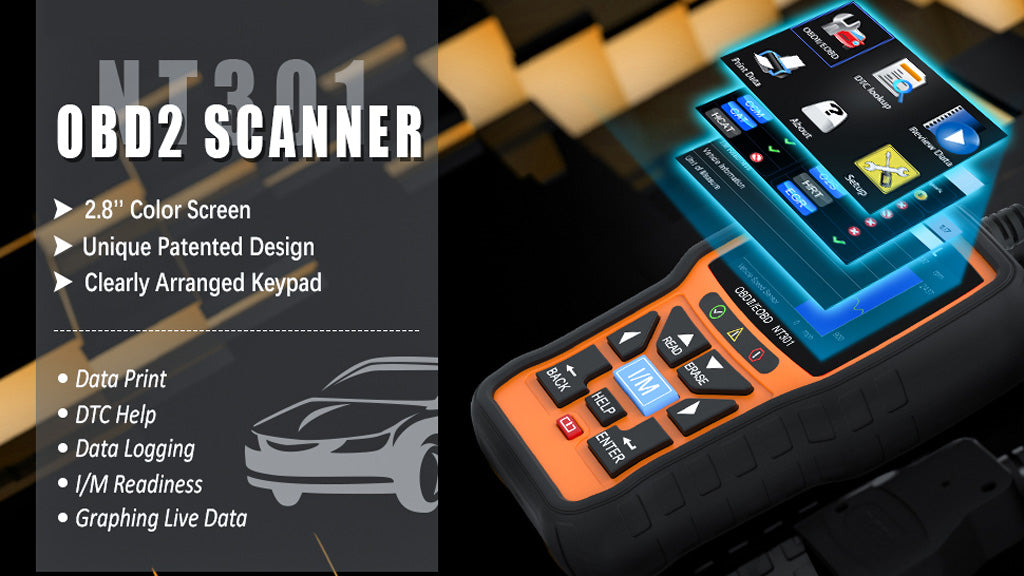 Features and Benefits:
Works with all OBDII/EOBD compliant cars, light-duty trucks, SUVs, minivans and hybrid sold worldwide
One-key emissions test and code reading
Red-Yellow-Green LEDs and build-in speaker indicate emissions monitor status
Clears codes, turns off Check Engine Light (MIL) and resets monitors.
Reads freeze frame data
Shows live vehicle sensors data in text and graph formats
Reads live O2 sensor/on-board monitor test data
Retrieves vehicle information (VIN, CID and CVN)
Multilingual menu options and code definitions
Life time FREE software and firmware updates via USB cable
Extremely easy to use with clearly arranged keypad, menu-driven navigation, and hotkeys
Full OBDII Functions with bi-directional Tests:
Read Codes, Erase Codes, Live Data, Freeze Frame, I/M Readiness, O2 Monitor Test, Component Test, Vehicle Info, DTC Lookup
As everybody who has cars knows, people always spend hundreds of even thousands of dollars on their vehicles just because the engine light was on. However, most of them don't know they could make it off themselves with dozens of dollars - using NT301 obdii code scanner.

One-Key Smog Test:
NT301 gives your the ability to get access to emission readiness status and trouble codes with just one single click.

LED Notifications: 
Red-Yellow-Green LEDs and build-in speaker indicate the readiness status for smog check. This engine diagnostic tool can also help catch intermittent problems or confirm repairs during a drive cycle.


DTC Help: 
Press "HELP" button with DTC guide for possible causes if codes show the small "?" icon.


Print Data:
If you are unable to determine the problem, you can print out the diagnostic data and send the data to your mechanic for help.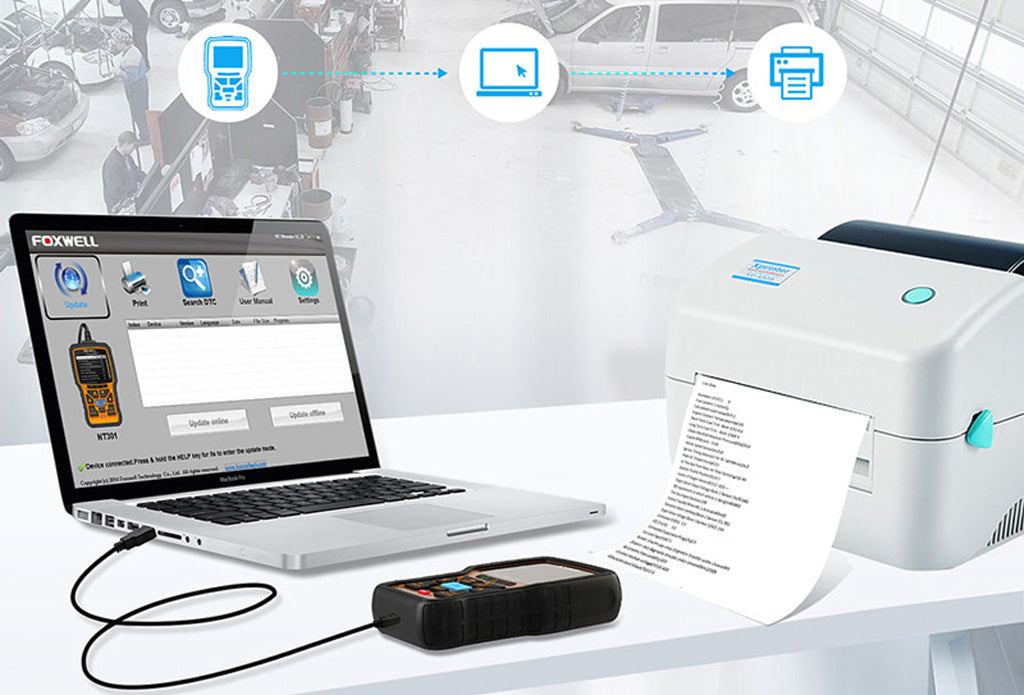 NT301 reading codes, freeze frame and real-time live data of engine systems, and it shows vehicle live sensors data in text and graph formats, 
gives you the "real picture" of what's going on in the vehicle, which allows you focus on any suspicious or symptom-specific data parameters for intuitive diagnosis
. You can locate your vehicle problems in a few minutes.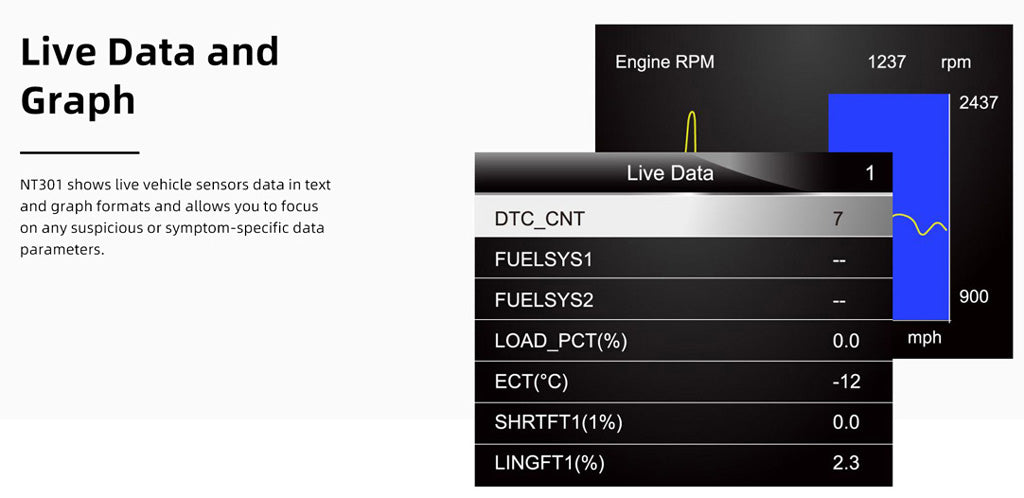 Data Log:
The NT301 records PIDs for later use to help you diagnose intermittent driving performance problems which can not be determined by any other methods.

Life-time FREE Update on Your Finger
Life time free update lets you always have the latest bug fixes, new vehicles coverage, newly added parameters and functionalities at your fingertips
 What's in the box?

How we ship?
All of the products on FoxwellOnline.com will ship for free.
Orders $0.01 to $99.99: FREE SHIPPING by registered postal service.
Orders $100.00 and up: FREE SHIPPING via DHL/UPS/FEDEX/TNT, etc
Who will be responsible for my import duty?
FoxwellOnline.com DOESN'T add the import duty in our product price or our shipping cost.
Import duty is what your country customs will charge you when your package passes through your country customs. It's always buyer's responsibilities to clear customs and pay the relevant custom duties. Because we have no idea about your importing country's tariff policy and can not confirm the customs cost.
How much I will be charged for import duty?
The amount of customs is different from one country to the other country according to your country tariff policy
What should I notice before shipping?
Please be sure your shipping address is correct. We will only follow your address listed at the payment for the shipment.
Due to the secure reasons, we are not allowed to change shipping address through email.
How long until I receive my items?
We will provide tracking number after shipping, all parcel is trackable.
Express shipping via DHL/UPS/FEDEX/TNT, it normally takes 5-7 working days to reach your place.
Ship via registered postal service, it normally takes about 1 -2 weeks to get it to you.
Further Questions
If you have any further questions regarding shipping or any other subject, please feel free to contact us at support@foxwellonline.com and we will be happy to assist you.