FOXWELL BT100 Car Battery Tester 12V Automotive 100-1100CCA Battery Analyzer Health Faults Detector.

SAVE 15% WHEN ORDER BT100! A MUST FOR HOME ➤ This 12 volt battery analyzer offers you an easy way to analyze the battery cell health status, view battery charging status and detect faults without stepping out and paying too much.
BATTERY CAN BE TESTED ➤ Auto battery testers allow you to check battery condition of 12V 100-1100 CCA regular flooded, AGM flat plate, AGM spiral, as well as GEL batteries, and give you an accurate test result in 3 seconds.
USE IT AT EASE ➤ Large backlit LCD display, clear arranged keypad and menu-driven operation make the act intelligent battery tester much easier to operate. Powers itself off the battery, especially born for the beginners.
SAFE AND RELIABLE ➤ The vehicle lead acid battery tester doesn't emit light, heat or spark, and won't discharge the battery. It also has polarities wrongly-connected protection and over-voltage protection.
HIGH-QUALITY SERVICE ➤ We aim at trying our best to offer you customers the best battery tester voltmeter and product services. Response in time, refund allowed, one-year product service and other policies available to make you unworried before/after the purchase.
Please note that this battery tester for car can't do load test and deep cycle.
In order to make the test result more accurate, please notice the followings before testing:
1. Turn off all electronic equipments.
2. When you completed charging, please wait for half an hour to test.
3. New battery need to be full-charged, and also need to wait for half an hour to test.
4. When connect the claps to the battery, please make sure the claps are perpendicular to the terminal post.

⚫Any questions or problems, just contact us via Amazon messages, we'll reply to you within 5 hours on average.
⚫Please note that this battery tester CANNOT test 6v/24v batteries.
⚫If you are testing inside a vehicle, make sure all accessory loads are cut off, the key is not in the ON position and the doors are closed.
⚫Do not connect the tester to a voltage source greater than 18V DC, otherwise you may damage the tester.
⚫If you want to adjust CCA rapidly, just hold on up/down button.
What's in the Box?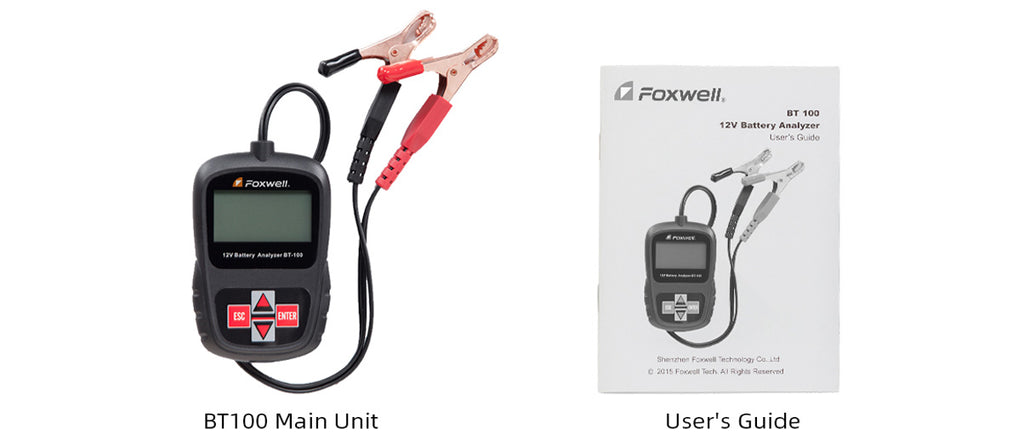 How we ship?
All of the products on FoxwellOnline.com will ship for free.
Orders $0.01 to $99.99: FREE SHIPPING by registered postal service.
Orders $100.00 and up: FREE SHIPPING via DHL/UPS/FEDEX/TNT, etc
Who will be responsible for my import duty?
FoxwellOnline.com DOESN'T add the import duty in our product price or our shipping cost.
Import duty is what your country customs will charge you when your package passes through your country customs. It's always buyer's responsibilities to clear customs and pay the relevant custom duties. Because we have no idea about your importing country's tariff policy and can not confirm the customs cost.
How much I will be charged for import duty?
The amount of customs is different from one country to the other country according to your country tariff policy
What should I notice before shipping?
Please be sure your shipping address is correct. We will only follow your address listed at the payment for the shipment.
Due to the secure reasons, we are not allowed to change shipping address through email.
How long until I receive my items?
We will provide tracking number after shipping, all parcel is trackable.
Express shipping via DHL/UPS/FEDEX/TNT, it normally takes 5-7 working days to reach your place.
Ship via registered postal service, it normally takes about 1 -2 weeks to get it to you.
Further Questions
If you have any further questions regarding shipping or any other subject, please feel free to contact us at support@foxwellonline.com and we will be happy to assist you.
Foxwell BT100 User Manual.pdf >>Download