BT705 discontinued. Upgrade version is BT715.
FOXWELL BT715 Battery Tester Automotive 100-2000 CCA Digital Battery Analyzer 12V 24V Car Battery Cranking and Charging System Test Scan Tool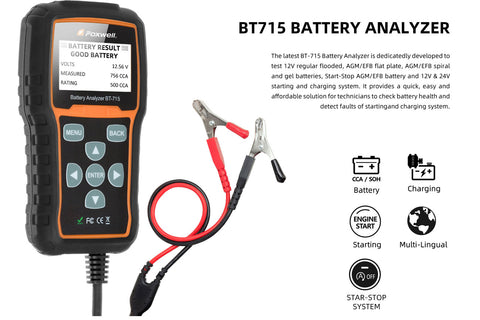 【BATTERY ANALYZER】
1. BT715 automobile battery tester designed for 12 V or 24 V batteries with a capacity of 100 to 2000 CCA, such as regular flooded, AGM flat plate, AGM spiral, GEL and deep cycle batteries, 12V & 24V starting and charging system.
2. The test results based on CCA, CA, MCA, JIS, DIN, IEC,EN,SAE Standards.

【CAR BATTERIES DOCTOR】
1. Adopt the advanced conductance testing technology, the premium quality copper clip and wire maintain a stable communication all throughout the testing process to provide you with reliable results!

2. Accurately and quickly measure the actual cold cranking amps, capability of the vehicle starting battery and healthy state of the battery itself.

【CRANKING AND CHARGING SYSTEM TEST】
1. BT715 auto tester displays the decision on the starter system, cranking voltage, and cranking time in milliseconds.
2. Check 12V or 24V charging system to make sure the output voltage of the generator is in a regular condition, the rectifier diode works fine and the charging current is a normal status.
【WORTH TO OWN】
BT715 car battery analyzer can accurate reading of battery health status in just 2. 5 seconds in its large and easy to use backlit LCD display, help you diagnose and resolve car health problems timely without disconnecting the battery or using a separate battery.
Why You Need Our FOXWELL BT715 Battery Tester?
Car batteries lose their power and performance with time hence the need to have them checked from time to time.
FOXWELL BT715 battery load tester will help you test the health of your car's battery and remind you to keep the battery in time to avoid unnecessary damage. It is important to know if the battery is still in good condition or if we need to replace the battery.
Also, you can check the battery by yourself in seconds to help you quickly fix vehicle problems and save you money and time. Therefore, you don't have to worry about future problems that may develop as a result of your car battery.
Features and Benefits:
Multiple vehicle applications for passenger cars and heavy duty trucks.
Tests batteries rating from 100 to 2000CCA. 
Tests multiple battery types- regular flooded, AGM flat plate ,AGM spiral and gel.
Tests multiple rating systems-CCA, CA, MCA, JIS, DIN, IEC,EN,SAE.
Tests the batteries on the car directly- no need to remove the battery.
Quick starter analysis without disabling the ignition.
Quick and accurate test result display in just 3 seconds, detects bad cells directly.
Tests 12&24 volt charging system.
Does not emit light, heat or spark ,or discharge battery-keeps operation safe for all levels of users.
Automatic temperature compensation.
Ripple voltage test for easy and intuitive check of faults.
Extremely easy to use with large backlight LCD display and menu-driven operation.
Rubberized sleeve protects, 7.8ft tester cable with metal alligator clips. 
Battery Tester Results:
-GOOD BATTERY: The battery is in good condition.
-GOOD-RECHARGE: The battery is in good condition but low current. Fully charge the battery and return it to service.
-CHARGE & RETEST: Fully charge the battery and retest.
-REPLACE BATTERY: The battery is almost dead or the connection between the battery and battery cable is poor.
-BAD CELL-REPLACE: The battery may be damaged such as broken cell or short circuit.

Cranking Test Results:
-CRANKING NORMAL: The starter voltage is normal and the battery is fully charged.
-LOW VOLTAGE: The starter voltage is low and the battery is fully charged.
-CHARGE BATTERY: The starter voltage is low and the battery is discharged. Fully charge the battery and repeat the starter system test.
-REPLACE BATTERY: Battery must be replaced before the starting system can be tested.
-NO START: No vehicle start detected.
-CRANKING SKIPPED: A start was not detected.
What's in the Box?
-BT715 Main Unit
-User's Guide
-Blow Molding Case

How we ship?
All of the products on FoxwellOnline.com will ship for free.
Orders $0.01 to $99.99: FREE SHIPPING by registered postal service.
Orders $100.00 and up: FREE SHIPPING via DHL/UPS/FEDEX/TNT, etc
Who will be responsible for my import duty?
FoxwellOnline.com DOESN'T add the import duty in our product price or our shipping cost.
Import duty is what your country customs will charge you when your package passes through your country customs. It's always buyer's responsibilities to clear customs and pay the relevant custom duties. Because we have no idea about your importing country's tariff policy and can not confirm the customs cost.
How much I will be charged for import duty?
The amount of customs is different from one country to the other country according to your country tariff policy
What should I notice before shipping?
Please be sure your shipping address is correct. We will only follow your address listed at the payment for the shipment.
Due to the secure reasons, we are not allowed to change shipping address through email.
How long until I receive my items?
We will provide tracking number after shipping, all parcel is trackable.
Express shipping via DHL/UPS/FEDEX/TNT, it normally takes 5-7 working days to reach your place.
Ship via registered postal service, it normally takes about 1 -2 weeks to get it to you.
Further Questions
If you have any further questions regarding shipping or any other subject, please feel free to contact us at support@foxwellonline.com and we will be happy to assist you.
Foxwell BT715 User Manual.pdf >>Download