Important !!  
TWO Years Warranty. Three Years Free Update. Foxwell Direct Support.
Upgraded Ver. of GT60

Auxiliary Features Adding Extra Value:
-Equipped with 7" HD touchscreen
-With 4000mAh built-in rechargeable battery,
-Driven by 4-core processor and Android system, auto scanning in just seconds.
-Intuitive menu for quick navigation,
-Data logging for later analysis,
-3 years FREE update, one touch update via WIFI
Great Compatibility for All Car Makes Both OBDI and OBDII 
i70 covers both OBDII and OBDI vehicles, ranging from 1996 to the latest 2021 cars, light duty trucks, SUVs, Mini vans:

American Cars: 
Buick; Cadillac; Chevrolet; Chrysler; Dodge; Ford; GM; Hummer; Jeep; Lincoln; 
 
European Cars: 
Abarth; Alfa Romeo; Audi; Bentley; Benz; BMW; Bugatti; Citroen; Dacia; EU-Ford; Ferrari; Fiat; Jaguar; Lamborghini; Lancia; Land Rover; Maserati; Maybach; Mini; Opel; Peugeot; Porsche; Renault; Rolls-Royce; Rover; Saab; Seat; Skoda; Smart; Sprinter; Vauxhall; Volvo; VW;
 
Asian Cars: 
 (JAPAN) Acura; Daihatsu; Honda; Infiniti; Isuzu; JPisuzu; Lexus; Mazda; Mitsubishi; Nissan; Nissan GTR; Scion; Subaru; Subaru; Suzuki; Tlisuzu; Toyota;
 (KOREA) Daewoo; Hyundai; KIA; Samsung; Ssangyong;
 (CHINA) BJ Hyundai, BRILBMW, DF Honda, DYK, Ford CHINA, GQ Fiat, GZ Honda, Mazda CHINA, SAIC Skoda, SAIC VW, Toyota CHINA, FAW AudiI, FAW VW
 (INDIA) Mahindra; Maruti; Tata;
 (MALAYSIA) Perodua; Proton;
Advanced All Systems Diagnoses
Foxwell i70 can access and perform OE-Level diagnosis on ALL available vehicle modules including but not limited to PCM, ECM, EPS, PDM, BCM, TPM, SCCM and etc and covers all major systems like ABS, SRS, Engine, Transmission, Brake System and etc: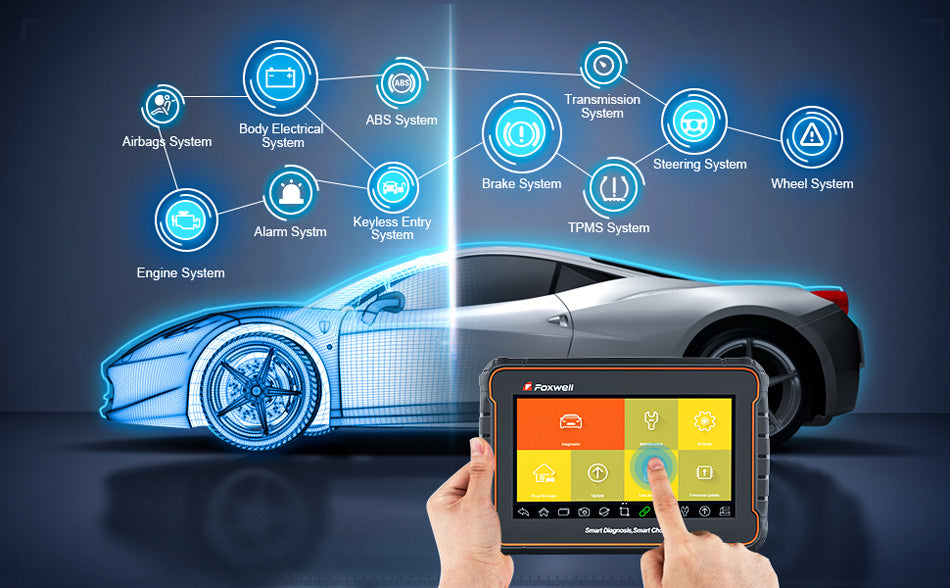 -Retrieve ECU information of the tested control units including unit type, version numbers, and other specifications, etc.
-Read & erase DTCs to locate problem areas and clear the codes.
-View Live Data of each parameter item.
-This comprehensive scanning process is able to locate the faulty systems and retrieve the DTCs related easily. So you can work on all parts of the vehicle systems to enhance the performance, save energy, reduce emissions, and everything else.
AUTO VIN Technology:
Foxwell i70 is equipped with latest VIN-based Auto VIN Scan technology that can retrieve vehicle brand, make, model and year at a single touch. With intuitive interface, Foxwell i70 is super easy to use.

AUTO SCAN Function:
The Auto Scan function performs a comprehensive scanning over all the ECUs in the vehicle to locate systems' faults and retrieve DTCs.
Multiple Graphing Live Data for Superior User Experience
i70 shows live vehicle sensors data of all controlled modules in both text and graph formats. Taking advantage of multiple graphing live data, any suspicious or symptom-specific data parameters are more easily to be focused on.

22+ Most Useful Service Funtions:
i70 is not only full system diagnostic scanner but also with most common service&maintenance functions, including Key Fob Programming, Oil Reset, EPB, TPS, TPMS, BRT, DPF, SAS, CVT, Odometer, Gear Learning and Injector Coding. (Detail see below)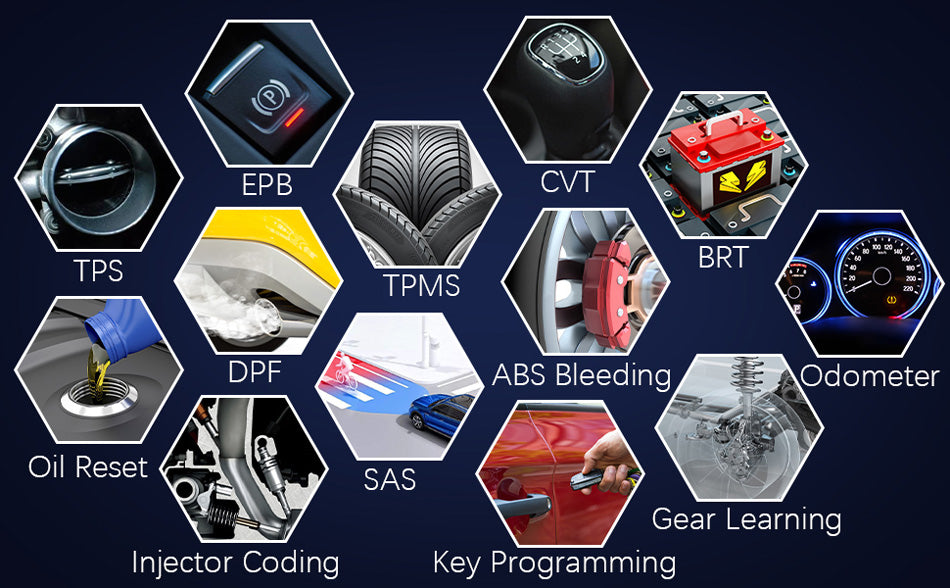 The powerful service&maintenance functions include not only all system sensors adaptation, actuation, relearn and resets, but common service maintenance functions (which may vary on different makes and models).

To list some:

1. ABS & SRS Diagnostic

ABS Test – tests ABS motors, solenoids, solenoid enable relays, EMBs, and more.
ABS Version Test – displays the name of the brake system and the ABS controller version number, software ID, and sequence value.
Actuator Test – tests AYC valves, inlet valves, outlet valves, pump motors, and TRACS valves.
Auto Bleed Test– removes air from the internal brake fluid chambers after servicing the brakes
2. Oil Service Reset
Allows you to reset the service lamps on the instrument cluster. The Service Indicator System is designed to alert the driver when the vehicle is due for a service.
3. EPB, Electronic Parking Brake
Allows you to perform the service and maintenance of brake systems,including deactivation and activation of the brake control system, bleeding brake fluid, opening and closing brake pads, and setting brakes after disc or pad replacement, on multiple brands of vehicles where electronic brake systems are fitted.
4. BRT, Battery Replacement
Lets you to new battery validated, how to clear faults from the dashboard and display.
5. TBA/TPS, Throttle Body Alignment
Using the throttle position sensors in the throttle body, the ECU learns the full open and full closed positions through various states (idle, part throttle, WOT) known as a Throttle Body Alignment (TBA)
6. SAS, Steering Angle Sensor Calibration
Let you perform calibration of the Steering Angle Sensor.
7. CVT
This function is used to reset the compensation code and initialize the ECT after a solenoid valve or valve body assembly has been replaced.
8. Gear Learning
Crankshaft position sensor adaptive learning.
9. DPF, Diesel Particulate Filter Regeneration
Let you perform the DPF cleaning to clear the blockage through continuous burning of the particulates captured in the DPF filter. When a DPF regeneration cycle is completed, the DPF light automatically goes off.
10. TPMS, Tire Pressure Monitoring System Programming
Allows you to check the tire sensor IDs from the vehicle ECU and to perform TPMS programming and reset after tires and/or TPM sensors are replaced and/or tires are rotated.
11. Injector Coding
This function is to reset and match the date after injector is replaced.
12. Odometer
This function allows you to revise the date of odometer and write the original date into new odometer.
13. A/F Adjust
Correspondingly change the fuel supply to change the steam production of boiler and maintain the energy balance in the combustion process.
More functions waiting for you to explore...
14 Languages Support:
English, Spanish, French, German, Italian, Russian, Polish, Dutch, Swedish, Portuguese, Japanese, Korea, Chinese simplified, Chinese traditional.
 
3 Years Free Update
After registering this scan tool, you will be eligible to download all the latest diagnostic software updates being free for 3 years. Updating is simple as it can be done online by connecting your Foxwell i70 to Wi-Fi, with just one click.
7 x 24 Hours Online Support
We provide 1 YEARS quality warranty. Welcome to contact seller via Q&A, email, or phone if need any help, our technical support is always ready to help you.
Practical Remote Diagnosis:
Foxwell i70 Scan tool provides practical remote diagnosis, user can ask for the remote control through phones, tablets, and computers etc. It has realized the reality that a mechanic can diagnose an abnormal vehicle which is even thousands of miles away.
What's in the Box?